Nerding on the move — building a nerd kit will help you survive on the move and in the wild without the comfort of your home office setup.
Most of us have a home setup where we can comfortably shut out the world, be productive and focus on our work. Working on the move can be much more challenging for a number of reasons, but it certainly isn't helped when we make basic mistakes like leaving an essential piece of kit at home.
Needing to nerd on the move started several years ago when I was regularly travelling between Sheffield and London on the train. I needed to be able to work fully whilst travelling, carrying all my tech and clothes for a good few days.
My laptop and my nerd kit have become my travel essentials. Packing them is quick, easy, and I'm guaranteed not to forget anything.
A Good Backpack
When you're travelling your backpack can be as important as what you put in it. For me I needed something that would contain a good quantity of technology and other essentials (such as clothes).
For the last 3 years I've been using an Osprey Nebula 34 backpack (2015 version), boasting:
Built-in padded laptop sleeve
Tablet compartment
Main storage compartment
Lots of smaller, zipped compartments
The Nerd Kit
The principle of a Nerd Kit is simple. It's a (survival) grab-bag of essential technology that's already ready.
I use a BUBM Universal Double Layer Cables Case for my nerd kit.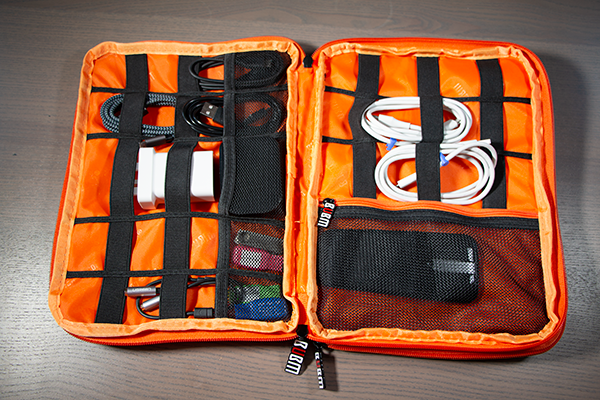 I pack it out with the following:
SanDisk 16GB Cruzer Blade USB (Pack of 3)
Each one has a bootable ISO of the operationg systems I'm currently using - Ubuntu, Ubuntu Server and Windows.

Kingston Data Traveler SE9 64GB
It's good to have a couple of normal large capacity memory sticks on hand.

Ugreen 3.5mm Headphone Audio Splitter Cable
A useful addition if you ever end up travelling with others.

Microsoft Arch Touch Mouse
This is a really comfortable mouse, and, it can fold flat!

Aulola - dual USB folding mains charger plug
Chances are you have a USB device or two that will need charging.

Anker 2nd Gen Astro3 12800mAh 3-Port (Discontinued)
A battery pack for charging your phone on the move is a definite must.

A handful of USB and USB-C Cables
Spare cables are always helpful.

Phone charger
I'll also put my current phone (Google Pixel) charger in here.

Spare laptop battery / laptop charger
The charging brick for my laptop and the extra battery are also packed in here.
I also always carry earphones with me, but I prefer these to be more accessible so I don't keep them in the nerd kit.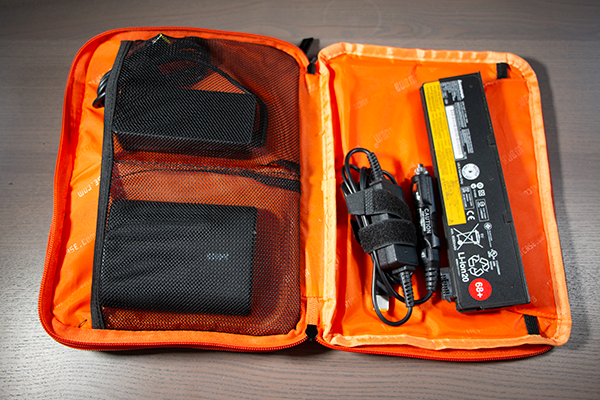 Going International
When I started building my Nerd Kit it was the aim to address my current situation of regularly travelling from London to Sheffield. Over time as this grew to include travel abroad I realised my nerd kit simplified the process of getting through airports too.
The nerd kit keeps all of my cables electicals together which makes taking things in and out of my backpack really easily.
When I get to airport security these days I make sure to take out my laptop and/or tablet. I also remove the spare batteries from the nerd kit so these can go through separately too.
I also have a BEZ Worldwide Travel Adapter that becomes part of my nerd kit whenever I go abroad.
Keep It Ready
If you build your own nerd kit and you do it properly, you'll find it very useful to you. Even when you're at home. Just make sure you have the discipline to keep it ready. Return anything you borrowed, and keep your batteries charged.